By Jane Anson,
correspondent for Decanter magazine and author of Bordeaux Legends.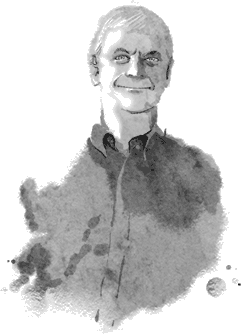 "This is where
I learnt how to be a winemaker,
and it means a lot to me."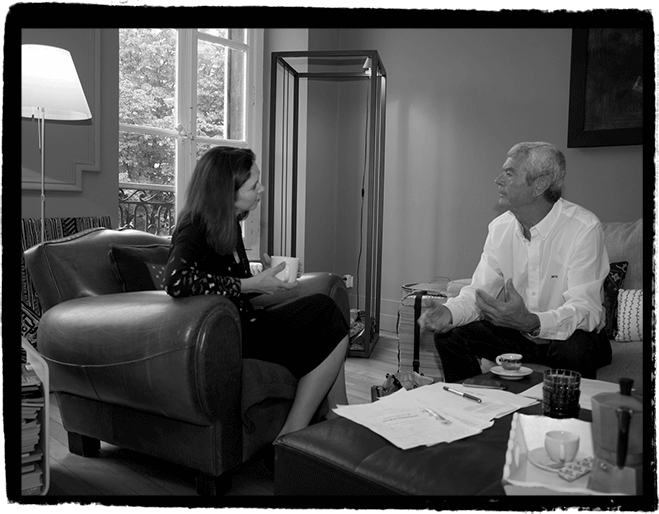 "Our philosophy remains to produce healthy grapes and preserve the vineyard for future generations."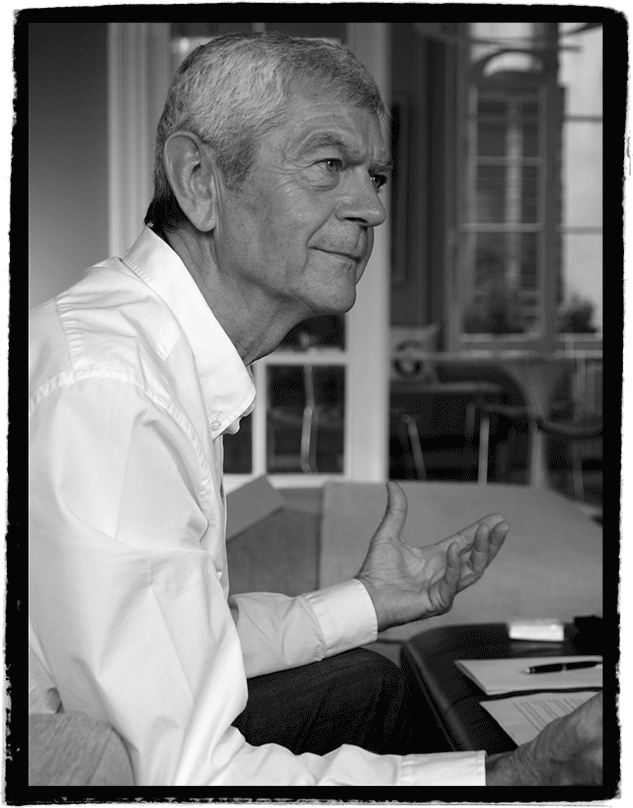 "As a beautiful woman, wine, just needs a minimum of make-up to be even more attractive!"
"We are interested in exchanging with wine lovers everywhere."
Interview by
Jane Anson
X
Michel Laroche, and the new challenge of 
Le Domaine d'Henri
Jane Anson, july 2013, extracts
Tell me about the origin of Le Domaine d'Henri
The real origin of Le Domaine d'Henri came from my grandparents. When my father inherited it was just two hectares, planted by my grandfather. The Laroche family can date its roots in Chablis back to 1850 and my great great grandfather Jean-Victor Laroche buying one or two patches of vines in the village of Maligny, close to Chablis, but nothing that could really be called a wine estate. Even further back, generations of the Laroche family dating right back to 1695 had always had a few rows of vines. We have been looking carefully into our family history, and it has found that we can really date the creation of a true working vineyard to 1781. The vines were then passed down through my family, and things expanded slowly but surely – two hectares when my father inherited it, and six hectares by the mid 1960s.
Today there are eight hectares of vines, with over 4.5 hectares in the Premier Cru vines of Fourchaume, planted by my father and I. We also have 3.5 hectares of vines in the village of Maligny where Jean-Victor Laroche created the estate. We are slowly reclaiming plots that have been rented, and so will reach 14 hectares within the next few years.
The future of Le Domaine d'Henri is assured, and it will live through the future generations of our family. This is where I learnt how to be a winemaker, and it means a lot to me. I would spend most of my summers on the property as a teenager, and I know each plot of vines like my own children. The oldest plot was planted in 1937, so the vines have reached the venerable age of 75, and we use them to produce our cuvée Fourchaume Héritage. Our Fourchaume Vieilles Vignes wine is from a plot planted in 1970, so with vines approaching 45 years. The Fourchaume itself comes from vines planted half in 1964, and half in 1999. Our Chablis vines in Maligny were replanted in 1988 and 2001, and are increasing in complexity with every vintage, as they approach an average of 20 years old.
How has Chablis changed since you began making wine there?
When I started taking an interest in the vineyards, the whole of Chablis had been in decline since the late 19th century, with the problems of Phylloxera and other vine diseases. Inexpensive wines were suddenly reaching the Parisian market with the opening of the railway from Marseille, and frost was a yearly worry, often decimating the production. It was impossible to make a living just from making wine, so my father – and everyone we knew – was practicing other types of farming also, from cereals to animal rearing.
It was really the late 1960s when things started getting better, and the vineyards started expanding again. Today Chablis covers nearly 5,000 hectares of vines. But more than the size is the feeling of ambition for the region. Wine growers know that the wine we can make in Chablis is singular, full of character, worthy of protection.
You are also well-known for your holistic approach in the vineyard. Let's talk about your vine growing principles.
I have always believed in doing my best for the vines, as my father and grandfather did before me, it's only with good fruit that you can imagine producing good wine. In that respect, little changes with the generations. We still have to treat the vine with care and consideration, and work with each vine plant separately, adapting everything from pruning to fruit-quantity control, ensuring the grapes are correctly spaced, with enough ventilation between bunches, doing green harvest if necessary. My philosophy in the vineyard is very simple – Except the manual work on the vines and the soil we keep intervention to a minimum, and let nature express itself. We practice sustainable agriculture, ensuring that when we do need to treat, we don't, but after heavy rain and warm temperatures for example, we have to be careful as mildew can develop very quickly. We began the 2013 season fully organic, but with the awful conditions in May and June 2013, with twice the average rainfall that choice was not possible anymore, and we had to treat once with conventional spray to save the harvest. But immediately after, as the dry and sunny weather came back, we returned to organic rules but without the label that we have lost by using one conventional treatment. But anyway our philosophy remains to produce healthy grapes and preserve the vineyard for future generations.
You told me that you are selecting vines from your oldest vineyard, can you explain?
We have started in 2012 a massal selection from our oldest plants in Fourchaume, planted in 1937 before the clones were existing, which have a biological and genetic diversity that we are determined to preserve. The plot comprises some 4,000 vine plants, and we inspected each one at various points through the growing season, and at the moment of harvest, to evaluate not only the quality of the trunk and the shoots, but the number of bunches it produced and the quality and maturity levels of the grapes. This first selection allowed us to identify and mark about 300 vine plants last year that we are following even more closely this year until the harvest, when we will taste the fruit of each vine and keep after severe selection perhaps 200 plants. Each of these will be further studied and tested in laboratory to ensure they are free of viral illnesses such as fan-leaf ('court-noué' in French) which will affect the quality of the fruits  and  longevity of the vines. After all of this, we should be left with perhaps 100 vine plants of superb quality and diversity, and it is these that we will use as massal selection to ensure the continuity of their individual characteristics.
The young vines resulting from this propogation will be planted just in front of our cellars at Le Domaine d'Henri, where we are creating a conservatory of vines to provide the DNA of our estate. All new plantings will come from these vines, whether full plots, or replanting between existing rows
How about in the cellar?
Again, I look at intervening in the process as little as possible. Each plot is of course vinified separately, letting the terroir express itself. We enjoy using natural yeast and are very happy when the wines reach a natural alcohol level of 12%, and fully express their aromatic potential. I fully believe that minerality is the signature of the best Chablis, and everything we do is about ensuring that minerality can sing in the finished wine. Because of that, we limit the use of oak to between 10 and 35% and we turn the barrels over by quarters every year, according to the wine and the vintage. We are looking for the roundness and complexity that oak brings, but it is a more oxidative material than the stainless steel vats that we mainly use for the vinification, and should in no way dominate. Then the wines from the tanks and the barrels are blended together for a perfect balance… As a beautiful woman, wine, just needs a minimum of make-up to be even more attractive!
You are known as a great supporter of screwcap, can you explain ?
We started in 2001 on a trial basis, after finding we encountered numerous problems with our old cork closures. There are few things that make me more depressed than opening a 15-year-old bottle of wine and finding that oxygen has destroyed its life. An alternative closure just seemed to make sense, and very quickly we went to 75% screwcap at Laroche. I felt then, and still do, that as we spend so long ensuring our wine is the best it can possibly be at the moment of bottling, it is insupportable for things to go wrong after that. At Le Domaine d'Henri, inevitably all bottles will be 100% screw cap. I believe without doubt that it is the best closure for wine, and now is not the moment that I will be changing my mind. Sorry for the traditionalists. Their real benefit, for me, is that they are neutral in terms of affecting the taste and aromatic profile of a wine. Apart from the awful cork taint they provide a hermetic seal, so preserve the freshness and minerality of a wine for much longer than a bottle closed with cork. And those are the characteristics that I cherish in wine. 
What markets will you concentrate on?
We want to ensure we are supplying our traditional markets, and our loyal customers, many of whom have grown up with me over the years, in all corners of the world. We are interested in exchanging with wine lovers everywhere, regardless of their address. I want to ensure that Le Domaine d'Henri is available in the favourite restaurants of our clients in France and further afield, and will be working with selected importers to ensure the right distribution. 
What are your future plans for the estate?
We are ambitious for the future of Le Domaine d'Henri, and for producing the best wine that we are able. The difference now is that I am not doing it for myself, but for and with my children.
My daughter Cécile works at full time for the domaine. All the year round in the vineyard with our other vignerons but concentrates on the administrative side, running the accounts, welcoming our clients.
My youngest two children are still too young, Romain is a student and Margaux as until now chosen another way. They have not joined the property yet but the door is widely open. We will see what they want to do. Perhaps one of their children, or other future generations, will love to return to the estate, but we will let the future decide.
The future is positive for Chablis. Its wines are now better quality than they were even 10 years ago, and certainly 20 years ago. It is full of winemakers who have a true love for the style of wine that comes from the Kimmeridgian soil with its perfect amount of limestone. I have great confidence in the future. The wines of Chablis have found a bigger audience on the world stage, and the region has responded with assurance.
The purest expression of chardonnay as Henri was pleased to say.